Reviews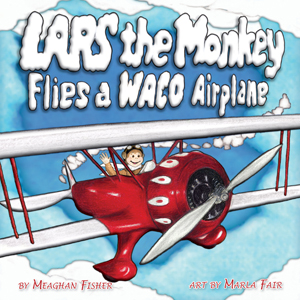 Lars the Monkey
Reviewer: Darleen Wohlfeil
Lars the monkey and his love for the Waco airplane is a wonderful tribute to the Waco Historical Society founded in 1978. Its intention is to preserve the history of flight and the Waco Aircraft Company. Lars and his lively illustrated story helps educate readers of the great work of the community of Troy, Ohio and the fun to be enjoyed at Waco Field.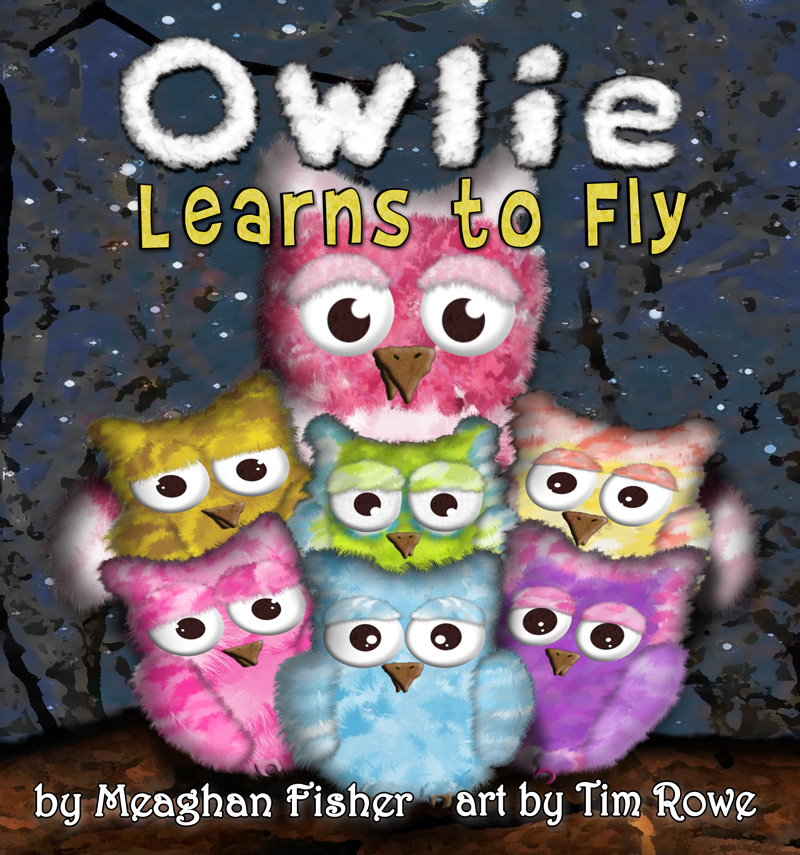 Owlie Learns to Fly
Reviewer: Darleen Wohlfeil
Owlie Learns to Fly tells a story of comfort zones and being ready to step beyond them. Every child develops at their own rate, and Mother Owl is wise in her dealings with Owlie. His five brothers and sisters are all eager to take the big step and go before him. Watching, as each one advances successfully, and with the encouragement of his mother, he finally steps forth and makes his way past the comfort of the nest, into the wild adventures of flight!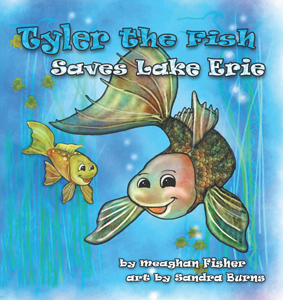 Tyler the Fish Saves Lake Erie
Reviewer: Darleen Wohlfeil
Tyler is an adorable little bass playing fish tag with his friend Jimmy in the lake waters of Ohio. They are having so much fun, they don't realize they have wandered beyond familiar waters. That is, until the water becomes brown and murky. The two little fish investigate the strange water and discover a terrible danger. They must find a way to save the lake! Together with the help of their friends, they learn a very important lesson. If you step up and work together, you can accomplish anything. The illustrations are adorable and bring the story's victory home with great cheerfulness.
Sadie the Skunk
Reviewer: Darleen Wohlfeil
Identity and belonging are a powerful force that drives the inner heart. Who we are, and to whom do we belong, are powerful questions that seem to demand an answer. This often-needed journey is a two-sided coin. The life so freely provided by choice can never be lessened by the discovery of the one left behind. Sadie has grown up in a family of cats, but now seeks her true place among her own.
Tyler the Fish and Marty the Sturgeon
Reviewed by Vernita Naylor for Readers' Favorite

Friendships can occur in many forms; just ask Tyler and Marty in Tyler the Fish and Marty the Sturgeon by Meaghan Fisher. Tyler was swimming with his friend, Jimmy, in the beautiful waters of Lake Erie when they encountered Marty. Initially both Tyler and Jimmy thought they were in danger when they were approached by Marty, but then things changed. In life, whenever we encounter what appear to be obstacles, remember that nothing is always as it seems. This is a colorful and expressive children's book told by Meaghan Fisher with rich illustrations by Sandra Burns. The story of Tyler the Fish and Marty the Sturgeon will bring satisfaction to any child as they begin to read and explore the different types of marine life in the book.
I enjoyed the book and envisioned myself reading to a group of children at a library or children's event. As I read each word and saw the pictures, I begin to become immersed in an underwater world. With the imagination of children, I know that they will become as interested in the marine life and the story as I did. This children's book is something that will encourage a child to want to read because they will want to understand and embrace the words on the page, and merge these with the pictures. If you want a beautifully illustrated and fun story for your child, get a copy of Tyler the Fish and Marty the Sturgeon by Meaghan Fisher to add to your library.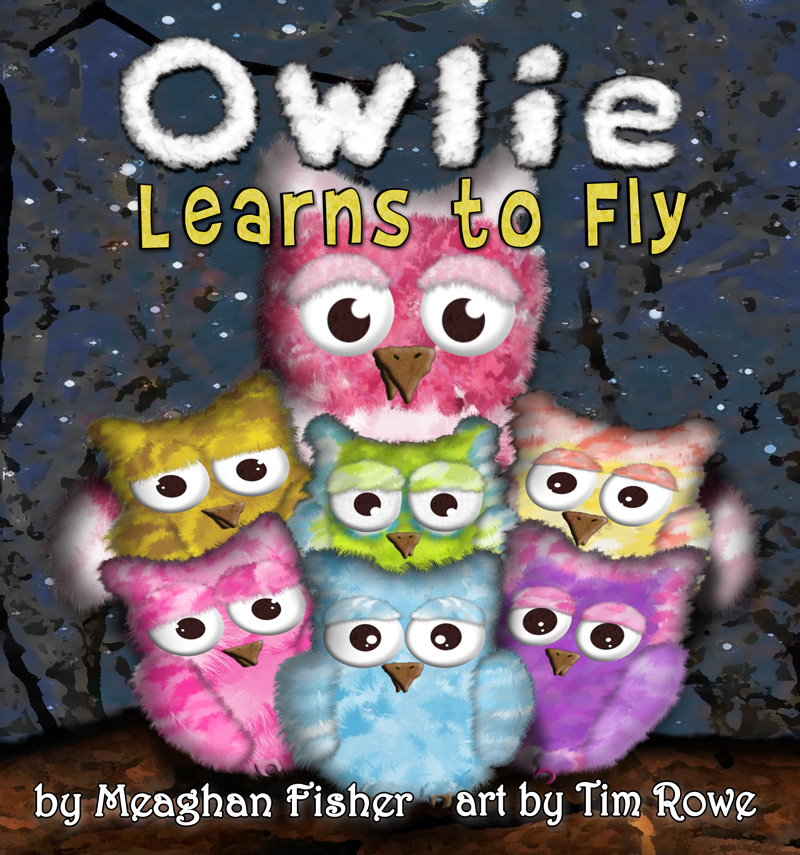 Owlie: Learns to Fly
Review by Kitty Muse and Me
https://kathyree.wordpress.com/2015/03/11/charming-childrens-books-by-meaghan-fisher/
Owlie is one of six owlets in a very close family, and today is the day the little ones learn to fly. Everyone is eager and excited–except Owlie. Even with encouragement and seeing his siblings fly off, he is fearful about leaving his safe home and stepping out into the night air. What will it take for him to swallow his fear and take that step?
I liked this one, mainly for the encouragement and support the little owl gets from his mother. It shows the love of family, which I hope would be prevalent in the family of the little reader or story-listener who is fortunate enough to have this book. Mr. Rowe's artwork is really cute–those little birds are darling! A good read for all little ones.
Review by Mamta Madhavan for Readers' Favorite

Owlie Learns to Fly by Meaghan Fisher is the cute story of little Owlie who is a bit nervous about learning to fly. His brothers and sisters are excited, but Owlie is apprehensive about going on his first flight. Owlie hears from his brother how beautiful the moon looks and he wants to see the moon. Owlie is the last one left. His brothers and sisters have flown and are sitting on another tree branch. Will Owlie be courageous and go on his first flight to join his brothers and sisters?
This story is both charming and adorable. The owls are lovable and they look cute in the pictures which are full of color and life. They give clarity to the tale and a personality to the owls. The night sky, stars, moon and the tree are all enchanting for kids to look at while going through the story. It is heart warming to see the Mother Owl gently push Owlie to fly by giving him confidence. Parents and grandparents can use it as a lovely bedtime story book for their kids and grandkids. It is a good story to use for read aloud sessions in classrooms and libraries.
Children will love Owlie, just like I did. Nothing is impossible if you set your mind to it. Owlie's desire to see the moon and the thought that flying is not that difficult are motivational to young readers. Cute stories like these will find their way into the hearts of readers.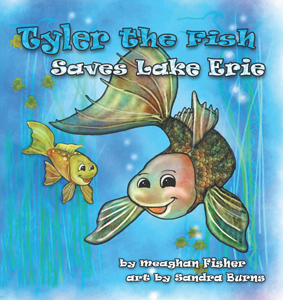 Tyler the Fish Saves Lake Erie
The US Review reviewed by Caroline Blaha-Black
"What's wrong with this water? Why is it brown?"
Tyler is a little bass fish, who lives in Lake Erie. One day, when he plays Fish Tag with his friend Jimmy, they venture a little further than usual from the playing grounds. Tyler discovers that in one part of the lake, the water is brown, and there are some barrels full of toxic waste that have been dumped there—an unfortunate and sometimes forgotten legacy of the lake. Tyler and Jimmy ponder what they should do to save Lake Erie from the threat of the poison that is spreading out from the barrels. They spring into action and get help from their other fish friends and the seagulls. Together, they get the attention of nearby humans on the boat, who send divers to bring up the toxic waste.
This is an imaginatively-written children's picture book, with bright, colorful illustrations by Sandra Burns. The text is written in a large print, perfect for the eyes of the young readers. The book received a Reader's Favorite prize in 2014. Compared to the multitude of other children's picture books about fish on the market, such as The Pout-Pout Fish by Deborah Diesen and Dan Hanna, or the The Three Little Fish And The Big Bad Shark by Will Grace and Ken Geist, this book has a strong environmental message for young readers, so they can learn about the animal kingdom around them. This is an insightful book for young children and for parents to read out loud to kids, and it could serve as a good learning tool in the classroom.
http://www.theusreview.com/reviews/Tyler-Fisher.html#.VUELeiFVhBc
Review by Kitty Muse and Me
Lake Erie holds a lot of secrets. Being molded from the same origins as the rest of the Great Lakes, it has a history of its own, and many legends that surround it. Barrels of unknown poisons should not be part of that legacy. When Tyler and his friends discover these toxins, there is only one thing they can do—get a chain of information going, one that will end up where it will do the most good.
What I liked most about this story was the ingenuity of the little fish, Tyler, who had the resolve to take a problem beyond the realm of his own limitations. He saw a problem and did everything in his power to resolve the issue. Therefore I see this book as not only a good read for youngsters, but also a good lesson for adults as well. It's a great story for little ones, who will not only enjoy the story, but will love the wonderful pictures that accompany it. Absolutely charming!
https://kathyree.wordpress.com/2015/01/17/review-of-tyler-the-fish-saves-lake-erie-by-meaghan-fisher/
ReadWave – Vikki Patis
Tyler the Fish is a charming story of a fish who must save Lake Erie, which is being polluted. The book is beautifully illustrated, designed to capture the attention and imagination of the reader.
It contains encouraging messages for readers – both children and adults – to take away, including the idea that everyone can make a difference, no matter how small, if they try. I love reading books that carry strong messages, teaching morals and encouraging you to be the best you can be, and I believe many children will love this story too.
All of Fisher's books are incredibly well-thought-out, beautifully crafted, and full of valuable lessons. Tyler the Fish Saves Lake Eriecarries many important themes, designed to teach children lessons they will remember throughout their lives.
http://www.readwave.com/book-review-tyler-the-fish-by-meaghan-fisher_s82594
Review by Renee Hand
Lars the Monkey Flies a WACO Airplane, is a simply told story with a great message. When he was little, Lars loved taking rides in WACO airplanes. He took his love and passion for flying, worked hard and became a pilot when he became older. This story will encourage children to follow their dreams. It also brings to light more information about the WACO Historical Society, which was founded in 1978. This society preserves the history of the WACO Aircraft. The museum is based in Troy, Ohio. The author, Meaghan Fisher, does a great job incorporating the WACO airplane into her book in such a fun way that children will find both the story and the character memorable.
Reviewed by Mamta Madhavan for Readers' Favorite

Tyler the Fish Saves Lake Erie by Meaghan Fisher is a story with a concept for small kids that will raise awareness about the hazards of pollution. Tyler is just another playful bass who lives in Lake Eerie. Like any other young fish, he love to play and explore the lake. One day while playing the game Fish Tag, he and his friend Jimmy find themselves in new waters. They realize that there is something wrong with the water as it is brown. They have to find out the cause and come up with a plan to save the lake and the creatures living in it. Will Tyler and Jimmy be able to save it before the entire lake is poisoned?
The book comes up with a beautiful message of protecting the environment. It is a beautiful story that tells children about the efforts and hard work by Tyler, Jimmy, and the seagulls to save the lake from being poisoned. It is a theme that is relevant in today's times. I would recommend teachers, educators, and parents to use this story in classrooms and libraries for read-aloud sessions because it teaches kids the importance of keeping the environment clean for a safe existence.
The illustrations are beautifully executed, giving life and movement to the story and the characters. I would recommend this story to all kids because of the theme and its importance. It a good way to make children aware of pollution and to work together to give ourselves a clean and healthy environment.
Reviewed by Paola Belloso for Reader Views
"Tyler the Fish Saves Lake Erie" by Meaghan Fisher is the story of a bass that lives in Lake Erie. He was a very happy fish and loved to go exploring with his friends all over. One day while having fun and playing with his friends, they went too far away from home and the water was ugly and brown, and they could not even see well. On the bottom of the lake they found some barrels that were leaking brown and had red skulls and crossbones painted on them. They asked themselves what they could be, but did not know. Tyler had an idea to swim back home and bring as many as they could so that all could jump out the water and the seagulls could help so that the human would come and see it. Tyler, Jimmy and the others went for help and came back and they jumped all together. A seagull saw them jumping and Tyler asked for help, and the seagull called the other seagulls and all flew above in a circle. Then the humans came to the spot and swam down and took all the barrels away.
"Tyler the Fish Saves Lake Erie" by Meaghan Fisher is a very cute story about the teamwork of all the fish, and it teaches you to work hard for what you wish and never give up.
Mousekabitz
Reviewed by Michelle Robertson for Readers' Favorite

Mousekabitz by Meaghan Fisher and illustrated by Tina Dunnier is an endearing pictorial storybook, which introduces young readers to the concept of perseverance. The book also helps a child develop problem solving skills, as well as a vibrant imagination. Children are often attracted to and love books filled with colorful pictures, to enhance their imagination and enable a more comprehensible view of the story. The author provides simple but endearing illustrations to allow for a comfortable story telling experience.
Mousekabitz had made his home behind a piece of furniture inside a human's house. When the human woman of the house finds his home, he is forced to try to make a new one. However, when the man of the house tries to find Mousekabitz, he decides to run, but finds himself in front of a hole in the wall he has never entered before and he hears music.
The author teaches children about problem solving and does so in a tasteful and relatable way. For example, many children's stories have a mouse character that is warm and approachable. The author uses a mouse to portray the main character of her story. A child would find this amusing and exciting. The mouse, like some children, has come into some trouble, and needs to figure out a way out of it, or solve the problem.
Mousekabitz is a fun, exciting, and adventurous story, not only helping with problem solving but providing children with the concept of self-accomplishment and friendship. A child will also learn to overcome fear of the unknown when reading this book. A story fit for a beginner reader and an experienced one to enjoy alone, or together.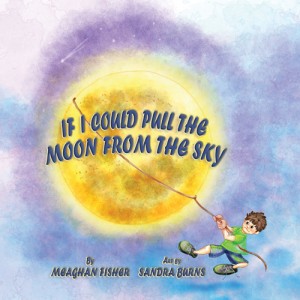 If I Could Pull the Moon from the Sky
Reviewed by Michelle Robertson for Readers' Favorite

The moon would be a fantastic item to have, don't you think? What would you do if you could take the moon from the sky? Would you take the moon to lunch? Play with the moon at school and take it to 'show and tell'? Would you give the moon a hug or simply give it to someone you love? Come join a little boy as he daydreams about what he would do if he could, in fact, pull the moon down from the sky.
If I Could Pull the Moon from the Sky by Meaghan Fisher is a charming children's pictorial book introducing young readers to the concept of using their imaginations. At one point or another, almost every child has looked up at the sky and wondered what it would be like to have, hold, play with, or even eat the moon! It is such a fascinating part of our everyday, or should I say night, lives. The author had created an exciting, adventurous, and fun story for children and adults to read and interact with each other while thinking about what they would do with the moon if they could pull it from the sky. The book offers a chance for parents to interact with their children, teachers with their students, and children with their friends. With its fun, very vivid and creative illustrations and imaginative story, If I Could Pull the Moon from the Sky is sure to be a hit with young book lovers.
Reviewed by Kitty Muse and Me
https://kathyree.wordpress.com/2015/03/11/charming-childrens-books-by-meaghan-fisher/
A little boy imagines all the things he would like to do if he could have the moon as a friend–one that could spend time with him. So many adventures they could have, and so many places they could go! His biggest and best wish though? Well, that would be telling…
This was probably my favorite of the five I am reviewing today. The pictures are both charming and silly, with the sort of imagination a small boy would have. The ending is the most heart-warming of them all. I highly recommend this one.
Giuseppe's Famous Pizza Pies 
Reviewed by Mamta Madhavan for Readers' Favorite

Giuseppe's Famous Pizza Pies by Meaghan Fisher is about pizza chef, Giuseppe who lives in Rome. Tourists flock from far and wide to taste his delicious pizzas. He would also entertain them with his antics as they waited in line to get their pizzas. But one day his vendor cart breaks and he finds it difficult to make and sell his pizzas. Giuseppe does not know how he will make money to make his ends meet.
The story is delightful and full of joy except for the time when the vendor cart breaks down. Giuseppe's character is lovable and endearing and children will surely enjoy reading this story. The illustrations are also bright and cheerful and they add to the beauty of the story. Illustrations do wonders to children's story books. They make the tales more attractive and make it easier for a child to comprehend and relate to what the author has written. The story also has a theme of helping others and being kind. Marsha is another character who will remain in your mind after reading the story. Her generosity and kindness form the underlying theme of the story.
The book can be used in classrooms for reading and story-telling sessions. It would be a good book to read at night before bedtime. Giuseppe's yummy pizza pies will make your mouth water. Will Giuseppe be able to get his vendor cart fixed? Will any of his friends help him find a solution?
Reviewed by Bee Bops Books
Giuseppe is famous for making pizza from his trusty cart for tourists in Rome. One day, his cart breaks down and he receives a very interesting offer from a tourist called Marsha. Will everything all go to plan?!
The illustrations by Diana Barrett complement the story perfectly and are really eye catching for little ones.
The story is very easy to follow for older children and provides a great stepping stone to other activities, such as Roman history and maybe even making your own pizzas! Giuseppe has also received the Reader's Favourite award with a 5* review.
http://beebopsbooks.com/2015/04/10/meaghanfisherfriday-giuseppes-famous-pizza-pies/
Reviewed by Anne Boling for Readers' Favorite

I Love Lady Bugs was written by Meaghan Fisher and illustrated by Middy Mathieu. This book was inspired by Emma Rose, the author's young daughter. Emma Rose loves lady bugs and searches for them in her house and on her toys. I Love Lady Bugs is about 19 pages long and allows the young reader to follow Emma Rose in her search for lady bugs. She finds them on the kitchen wall, on the window and on the back of her chair. She finds them in her backyard, on her sock as she is sliding down the slide and in her garden. Emma Rose doesn't mind finding lady bugs because she loves them.
I Love Lady Bugs is an adorable book for toddlers, preschoolers and beginning readers. The illustrations are exquisite. The colors are bright and attractive; they are sure to hold a child's attention. They add depth to the text. The text is simple and easy to understand. I was surprised that the author did not create text with a rhythmic structure. However, this does not detract from one's reading enjoyment. I can see many teaching opportunities that go along with this book. A parent could have the child count the lady bugs or the parent could ask the child questions as to where the lady bug was found. This book could also be used to assist a child that has a fear of bugs. What better way to help a child overcome this fear than with a book about a child that loves a bug. Meaghan Fisher is a talented author specializing in children's books.
Review by Emily Browning
http://bookloverandreviewer.blogspot.com
Review:  In this book Fisher introduces you to Emma Rose, a curious little toddler who loves ladybugs.  Emma finds delight in the ladybugs that are all around the places and things she loves.  Simply written and beautifully illustrated with vivid and colorful pictures, this book is sure to be popular with your adventure loving youngster.
Review by Renee Hand
This story is delightfully simple with wonderful illustrations that will capture the reader's attention. Ladybugs are fun for children all ages, their red and black colors and ability to show up anywhere, is quite fascinating. Young children will love Emma Rose's adventure  in search of ladybugs in this picture book.
Review by Kitty Muse and Me
https://kathyree.wordpress.com/2015/03/11/charming-childrens-books-by-meaghan-fisher/
Ladybugs everywhere! Their little round bodies and their white-dotted faces are so fun to see in the spring and summer. The little girl in this book sees them everywhere, inside and out. Who couldn't love such a cute, harmless, beneficial insect!
Again, Ms. Fisher has found a wonderful artist, and I loved every page. The ladybugs look like little hearts, and the broad grin on the little girl is a heartwarming affirmation of how wonderful ladybugs are. A short, but very darling book, well-written by our Meaghan Fisher. Good job!
Reviewed by Bee Bops Books
The illustrations are in a retro/vintage style and we love Emma Rose's frilly ankle socks! They remind Beebop's mummy of the books she read as a child at her nanny's house.
 This is a sweet counting book for little ones and is very easy for them to follow along with the sentences. It's also a really good starting point to find ladybirds in your own garden, although we haven't seen any yet!
http://beebopsbooks.com/2015/04/17/meaghanfisherfriday-i-love-ladybugs/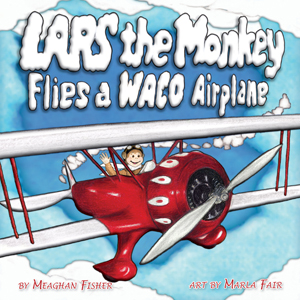 Lars the Monkey
Madhavan for Readers' Favorite

Lars the Monkey Flies a WACO Airplane by Meaghan Fisher is a cute little story of Lars the monkey. Lars enjoyed his ride in the WACO airplane at WACO Field in Troy, Ohio. His dream is now to fly one of these WACO airplanes all by himself. He loved flying in loops. One Saturday,the pilot does not not turn up to give rides. All the passengers are disappointed that they cannot go on the airplane ride. Lars shouts that he can fly the airplane. But is he able to do it and bring joy to the faces of the waiting passengers?
An endearing story of courage and passion. Lars is someone whom all the readers will love and many of them will be able to identify with his passion for flying. The author has written a story incorporating animals, flying, and the historical WACO club. Children are exposed to many new things at the same time which makes the story more appealing to them. The illustrations are lively and colorful, just like the enthusiasm Lars shows in the story. It is a book that children will enjoy because it has animals and an airplane and the theme is flying.
The book is short and delightful and is a good book to introduce children to reading. It makes a good story for read-aloud sessions in the library and classrooms, and can be read out as a bedtime story, too. Lars, the monkey, will remain in your hearts for a long time with his delightful character.
Review by Emily Browning
http://bookloverandreviewer.blogspot.com
Review:  As a child Lars loved airplane rides, and as an adult he is determined to share his passion for flying with so that other children can also experience these rides.  When the instructor injures himself and can't take people on airplane rides, Lars has two choices: sit back or make a difference.  The message of this book is refreshing and I love Lars' passion for helping others.  This book is sure to teach your young child an important message on doing the right thing and making a difference!
Review by Kitty Muse and Me
https://kathyree.wordpress.com/2015/03/11/charming-childrens-books-by-meaghan-fisher/
Lars loves the airplane field at the WACO airfield. He is now learning to fly the historic planes himself. Up, down, loops–he has mastered all the moves, and he is ready to fly on his own.
Just in time too–there is a problem, and Lars steps in to do the right thing and save the day.
This was a sweet little book, and once again Ms. Fair's illustrations are a crowning glory. Monkeys are always a favorite among little ones, and Lars is a real sweetie. I liked the background of a real-time air field (http://wacoairmuseum.org/), which puts the story in the here-and-now. This story might even end up influencing little ones to take up flying themselves.
Reviewed by Bee Bops Books
When Lars the monkey was little, he loved taking rides in a WACO aeroplane at WACO fields in Troy, Ohio. Now he's older, he learns to fly a WACO aeroplane himself! Is he confident enough to step in when a pilot is injured and there are plenty of excited children who want a ride in the plane?!
We really liked the shading in the illustrations and the monkeys are all very cute!
This is a really good book for plane fans (little or big!). The museum that Lars visits is also a real place (see their website here) and you can even take a ride in a real aeroplane! Meaghan's book can lead into all sorts of interesting learning (as we discovered when we had to google what a WACO aeroplane was!) Lars also teaches us that we have to work hard to achieve our goals.
http://beebopsbooks.com/2015/04/24/meaghanfisherfriday-lars-the-monkey-flies-a-waco-airplane/
Reviewed by Anne Boling for Readers' Favorite

One day Sadie was playing in the woods with a cute little black kitten. The kitten asked Sadie why she was different. Sadie's legs were short and her tail was long, thick and fluffy. Sadie went to her mother and father and asked them why she was different. They explained to her how they took her in when they found her wandering in the woods. She became one of their own. She wanted to know who she was and her father agreed to help her find out. He told her that Mr. Groundhog would be able to help her. At first Mr. Groundhog told her she was a squirrel, but she couldn't climb a tree so she couldn't be a squirrel. Then he told her she was a sparrow, but she didn't have wings so she couldn't be a bird. Then he told her she was a beaver, but she didn't have a large flat tail so she couldn't be a beaver. I wonder what kind of animal Sadie is?
Sadie the Skunk is a cute tale about a skunk, raised by a family of cats, searching for her family. Sadie the Skunk was written by Meaghan Fisher and illustrated by Marla Fair. The illustrations are beautifully done. The colors are bright and eye catching. Sadie the Skunk is an adorable tale. Children will love Sadie and will learn a little about each animal in the story. This 35-page book is sure to appeal to children from preschool to third grade.

Review by Emily Browning
http://bookloverandreviewer.blogspot.com
Review:  In this book, Sadie the Skunk struggles with questions about who she is and where she came from.  However, with the help of a clever groundhog Sadie's questions are soon answered.  Sadie learns that what makes her different actually helps her to find her family.  This book is sure to delight any young reader with its adorable illustrations and cast of woodland creatures, as well as the message that it is okay to be different.
Review by Kitty Muse and Me
https://kathyree.wordpress.com/2015/03/11/charming-childrens-books-by-meaghan-fisher/
Sadie loves her family of cats, but she feels and looks so different from them. Her parents reveal the truth–that she was brought into the family when she was found wandering alone. She sets off on a journey to find her family, with the help of Mr. Groundhog. But just what family does she belong to?
I love stories that give descriptions of various animals, and this is one of those stories. As Sadie moves from one animal group to another, the young reader learns the difference between them. And little ones will love the ending, I'm sure. The illustrations are absolutely darling, and I'm sure little ones will love the color and vibrancy on each page.